Sleeping in the car in the world's biggest salt desert – SALAR DE UYUNI, Bolivia 🇧🇴
Spending a night in our car in the world's biggest salt desert! Salar de Uyuni in Bolivia at almost freezing temperatures was the most extreme adventure we've had in our two years of non-stop travel!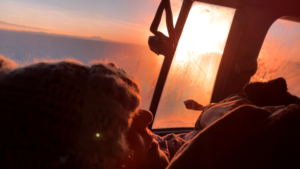 At first Paul and I were disagreeing on whether we should spend the night in our car or just visit for the day.  After all, it can get freezing at night (around or under 0 degrees Celsius.) In the end he convinced me that sleeping in the car in the middle of the desert would be a good idea. Now I can say, even if I did not enjoy it all the time, I'm really glad we did it! It took some preparation and planning but despite our basic camping- and survival equipment, we managed to… survive! 😉
Watch our night camping in Salar de Uyuni here:
(It's a weird BILINGUAL mix! Turn on subtitles 😎🇺🇸🇧🇴🇧🇷)
How do you prepare for a night in Salar de Uyuni?
Well, let's start with the car. Salt causes corrosion and you want to prevent that. So what you do is clean the car at one of the Lavaderos they have in the area. Uyuni is a very dusty place; it reminded me of a Wild West town. That means that your car could probably use a wash anyway. If you tell them that you're planning on going to the salt flats, they will suggest covering your car with Aceite de Diesel (diesel oil) on the bottom and the engine. That way, your car is protected from the salt while you're in the salt plain. After you leave, you will wash the salt off the car again, maybe use more oil spray, and everything is fine.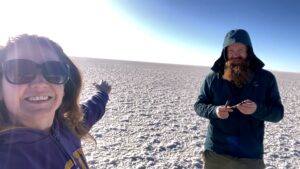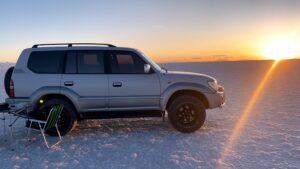 How do you prepare for sleeping in the car in Salar de Uyuni?
The only times we camped before this experience was in Brazil. In the warm and comfortable climate of Brazil we barely even needed a blanket in the car. Now we had to use literally everything we had in our luggage to keep us warm.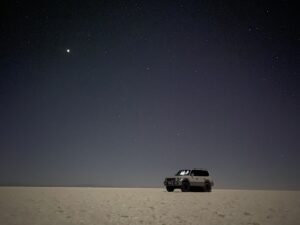 Our Toyota Landcruiser Prado is big enough to have us sleep in it but technically it is not a motorhome. So we have to improvise a bit when we sleep in it. That means, we fold down our two rear benches and cover it with two yoga mats. 
Then we use an air mattress (1,30m x 2,00m) that we put on top, which, once it is blown up, leaves very little space for us to fit 😉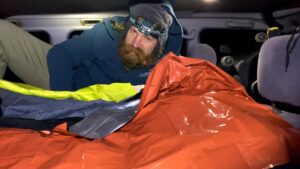 To keep us warm we use:
sheets to cover the air mattress

one sleeping bag each

one pillow each

one thin layer of sheets to cover ourselves

one fleece blanket 

one reusable emergency blanket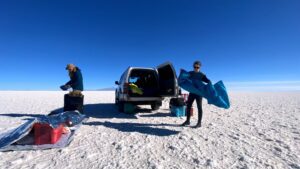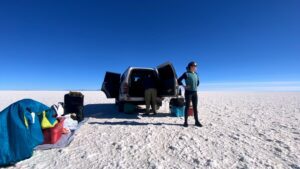 The emergency blanket has two coatings, one for warm weather and one for cold weather. In our case, we used the red coating on the outside, which is supposed to keep the heat inside. Despite us being a bit chilly at night, I noticed the damp inside layer of the emergency blanket the next morning. That means, it must have helped at least a bit!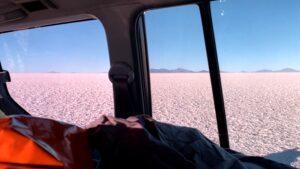 What do you bring to eat in Salar de Uyuni?
It's important to stay warm, so we decided to buy foods high in protein. We used our camping stove to fry some tacos filled with cheese, sausage, eggs and tuna. While my hands were freezing and I could barely move them anymore, I have to admit that the food turned out really good! It was just a bit uncomfortable eating while being outside in the windy desert.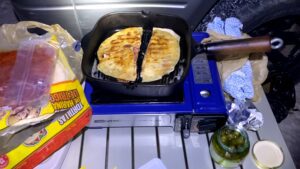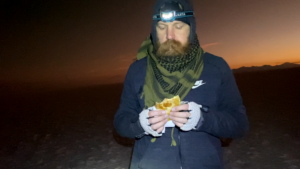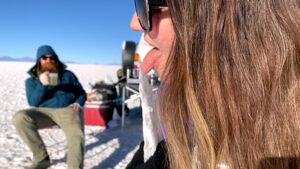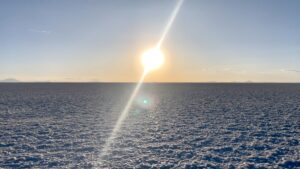 It got dark quickly and we had to hurry up to store all our luggage (that is usually in the trunk of our car) at the front seats. 
Tips and Mistakes for camping in Salar de Uyuni
After the fact you're always smarter. We did some research before preparing our trip but there was still room for improvement. What I would do differently now is, not put on that many layers when going to sleep. I literally put on all the sweaters I had in my luggage. However, it would be better to have one extra sweater in the sleeping bag with you when you go to sleep. That way, it stays warm through your body heat, and when you wake up in the middle of the night, you can put it on and it will make you warmer.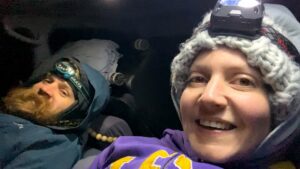 When camping in the salt desert we did not own our hot water bags yet. (We did buy them right after – what a great invention!) On our next camping trip in the cold we would heat up hot water and put the hot water bags in the sleeping bag with us. You can have them at your feet and your body will keep the water warm and vice versa.
We only own warm-weather-sleeping bags (for 11 degrees Celsius.) If you only have sleeping bags like these, I suggest zipping them together. That can help you improve the temperature.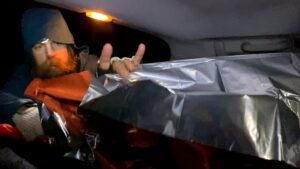 At some point during the night I woke up and my face and nose were freezing! I suggest having one thin layer of cloth, a beanie or a scarf that you can pull over your face. You should still be able to breathe though. 
Window shades are great to keep it dark while sleeping but they also help to keep the warm air inside. If you have some, put them inside the front window and, if possible, the rear and side windows.
Because there is barely any cell phone reception, we also brought our Walkie-Talkies for communication. They can be useful when exploring separately.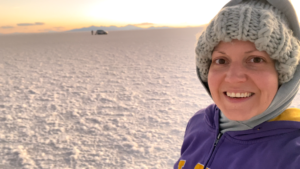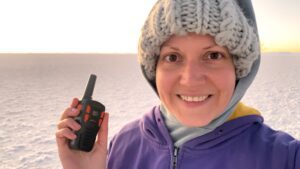 The next morning in Salar de Uyuni
After preparing more desert tacos for breakfast, we packed up to get ready and explore the salt flats by car.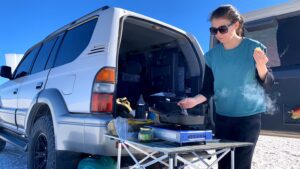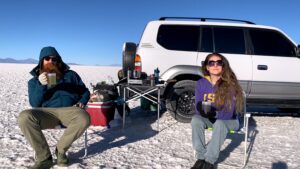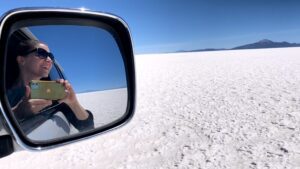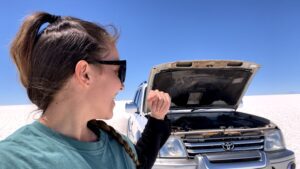 Driving the car in the salt flats felt exciting but it can be dangerous. People have hit those holes with their car and got stuck in there. So watch out!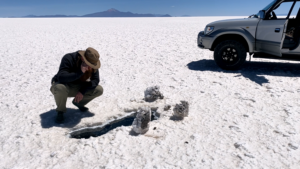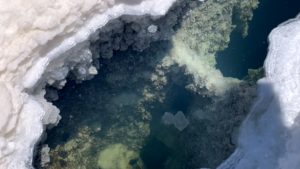 Salar de Uyuni covers over 10,000 square kilometres (3,900 sq mi) in area and its surface shows hexagonal formations from the crystallization from evaporating water.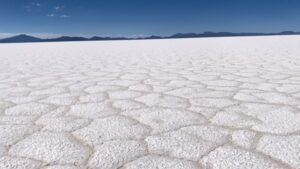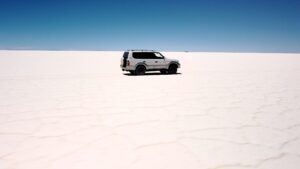 Even under the surface you can see spectacular crystals and clear water.
What else is there to do in Uyuni besides the salt desert?
Uyuni has a very popular tourist site: the train cemetery! You see over 100 ancient trains and locomotives dating back to the early 20th century. Because of the salt and strong wind in this location, they look exceptionally worn down. A great place to explore!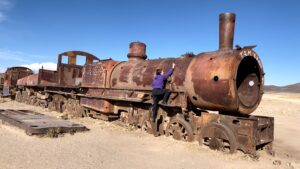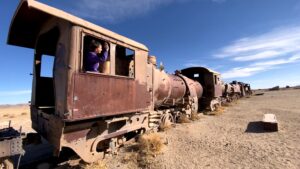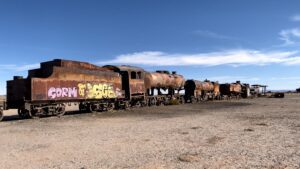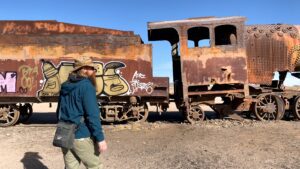 Our conclusion after 24 hours in the world's biggest salt flats
Even if I could have never imagined spending the night at freezing temperatures in the car, I'm proud to say we did it! We gained a lot of knowledge for our next camping adventure and are definitely more prepared for camping in cold weather.
To sum up, Salar de Uyuni was definitely the most exciting thing we did in our six weeks of overlanding Bolivia. If you're planning a trip to Bolivia and want to share your experience, or ask me anything about our trip, go ahead and contact me on social media!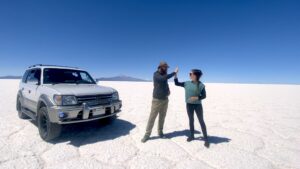 🙋🏻‍♀️Follow my channel to not miss my next video of my adventures through South America 👉 https://www.youtube.com/AlexandraAllover?sub_confirmation=1
You can also contact me on social media:
✅ https://www.instagram.com/LearnAllover
✅ https://www.facebook.com/AlexandraAllover
✍️ Read more blog posts about our travel in Latin America: https://alexandraallover.com/blog
📩 You can email me via Alexandra@AlexandraAllover.com
🎓My life as traveling teacher 😊
https://www.youtube.com/channel/UC3i5ab8dLpuVTqrSI4uVd0w?sub_confirmation=1
I'm happy to hear from you!
Alexandra