Our first month in Mexico (Digital Nomads in Puerto Vallarta) 🇲🇽🏝☀️
After one month of residing in the Mexican state of Jalisco, we decided to move on. What we've experienced in the last four weeks was both exciting, insightful and heartbreaking (but maybe that's just me).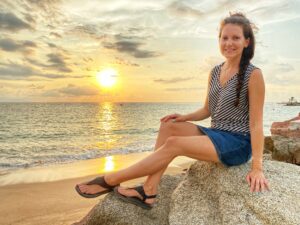 Our friends Kim and Ole left us and went back to Europe. One of them already had enough of Scandinavian winter though and decided to come back to Mexico 😁🇲🇽 So welcome back, Ole! 👍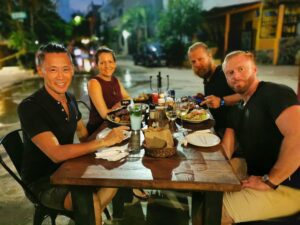 So…what have we been up to?
After having traveled to Sayulita, San Pancho and Corral del Risco we came back to Puerto Vallarta and spent the last two weeks here. We had really enjoyed our hotel (Suites Plaza del Rio) because of its spacious two-room-apartments, two bathrooms and kitchen for an incredible value for money. So we chose to spend a couple of more weeks here. Plus, everybody already knew us there 😁
My new insight: Living with geckos 😲🦎🥰
One interesting thing I noticed: When moving to Mexico I had to get used to discovering geckos inside our hotel room. In the beginning I was a bit scared since I had never lived with geckos before. Same goes for armies of ants we had in our kitchen. It's inevitable if you have a place close to nature. I didn't mind so much after a while, especially because the whole feel of the place was great. Plus, I never slept so well in my life before!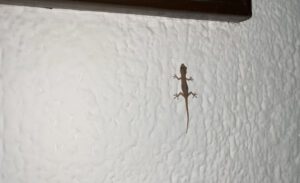 When spending a couple of nights away in a five star hotel for my birthday, we got to enjoy a spotlessly clean hotel room. No ants, no geckos, NOTHING! Also, they informed us that they had used disinfectant spray in our room before our arrival. To help us stay safe. That night, we barely slept. Both Paul and I experienced restless nights and crazy bad dreams. Not sure if it had to do with all the electronics in the room or the disinfectant spray.
Coming back to our old and simple hotel, things were more relaxing again. I slept all night and felt well-rested. It sounds funny coming from someone who killed every single ant in her apartment before but… this experience made me realize that humans must feel good in a place in which animals like it too. A hotel room in which no single ant would survive can't be very healthy for people either. Wow, Mexico helped me grow so much! 🐜🧘🏻‍♀️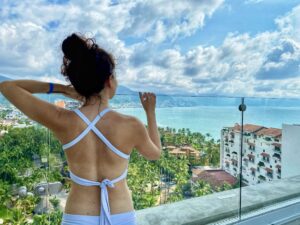 Besides celebrating my birthday, it was a pretty normal two weeks. For the "big" celebration we went out to eat fancy and spent a whole day at a rooftop pool with no work but lots of Bloody Mary (That was my gift to myself) 😊 Also it was the first time that I got to spend my birthday in sunny and warm weather. Yay! ☀️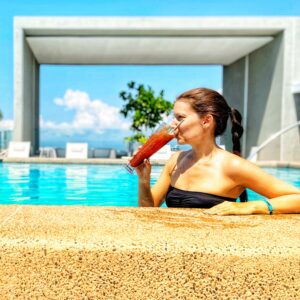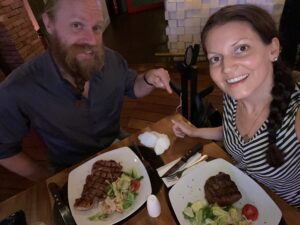 We started to cook a lot more because it seemed cheaper (and healthier). We are still a bit disappointed by the narrow range of organic food options. Even when labeled "natural", most smoothies, juices and yoghurts contain sugar. When looking for eggs, you don't see if they're free-range or cage egg production. It's all the same. It got to the point where I thought I should get myself some chickens so I know where my eggs come from. We always had chickens growing up, my dad would be so proud!! 🐣👩🏻‍🌾
One thing that breaks my heart…😢
Something I keep seeing here is that some people own very very young puppy dogs. This might be a normal thing. I don't know. But growing up I've always loved dogs and I've been told by dog breeders and other people who had dogs, that you should wait a certain period of time until you remove them from their moms. Like 12 weeks apparently. I remember picking up my dog from a local farmer's place when I was a kid. I saw him for the first time when he was 4 weeks old. He was pretty small. Finally we picked him up when he was 12 weeks old. He was able to eat by himself and seemed Iike its own entity. So seeing people walking around with dogs so tiny they can hardly walk by themselves strikes me as strange.
I asked one of the owners how old his dog was and he said 4 weeks. He had gotten the dog 4 days prior. The pup looked pretty overwhelmed by its surroundings and like it needed a lot of support. It was a husky puppy as tiny as my hand. It reminded me of Mexico City where I saw a guy selling puppies on the street market. There was an open cage with puppy dogs feeding on their mom. When I started to film, he immediately covered the dogs and told me to stop. So I assume people selling dogs that are way too young to be sold is quite common. If you have any more information on that, I'd be eager to know more. But I got a little carried away there…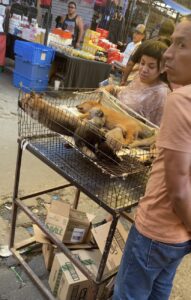 (Street market in Mexico City)
Since sunrise and sunset are pretty much 12 hours apart in Mexico, it gets dark pretty early. While we haven't made it to see a sunrise yet, we have seen many sunsets in Puerto Vallarta. Some days when working at the coffee shop, we leave around 7 pm to go to the beach. Enjoying a beach walk after work is really rewarding and still feels so new to me. Watching sunsets by the water is just so much nicer than on land. 🥰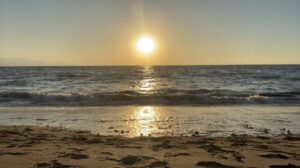 Our next destination will not present itself with ocean sunsets but we'll definitely be able to see Caribbean sunrises (if we ever make it up early enough).
Cancun here we come!
——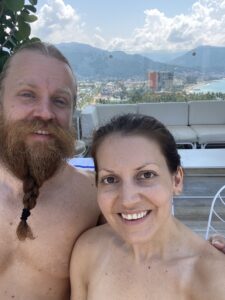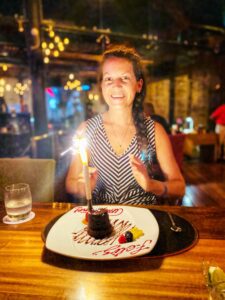 Watch our 1st month in Puerto Vallarta on Youtube: