Waterfall hike to El Nogalito without guide 🦎💦
Jungle vibes💦🦎
2020 is an interesting year to travel abroad. We moved to Mexico three weeks ago and we got to experience what it is like to travel without crowds of tourists.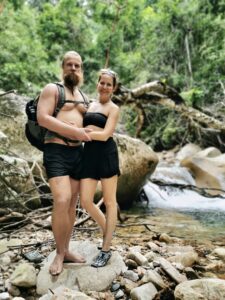 Currently in Puerto Vallarta we discovered that there is a trail through the jungle to reach the waterfall of El Nogalito. Our friend Kim joined us for a walk we were barely prepared for 🙂
While I did bring my water shoes, Paul and Kim only brought flip flops which are not a great idea in the strong stream of the jungle river. Therefore, they decided to walk barefoot.. these brave brave men.
Since there were no other tourists, there were also no tours or guides. We weren't going to get a guide but what would have been helpful sometimes were signs to tell us how much farther it was to the waterfall. 
Because we were SO CLOSE to turning around just before we found it!
Apparently the walk in the river takes between 1 and 1.5 hours. Without shoes and a heavy backpack we knew we were probably a bit slower than the average person. In addition to that, we took a swim break whenever the river offered a swimming hole with mini-waterfall 🙂 Taking a swim in a pond in a river in a beautiful jungle setting made our adventure already worthwhile!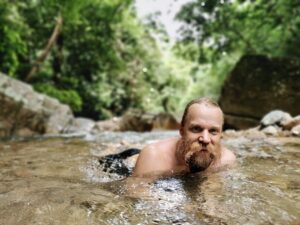 Walking up the river was a fun challenge. The water in rainy season is especially deep and rushing. We waded thigh deep through the water, climbed slippery rocks on all fours, grabbed hanging vines for balance. It was exciting and exhausting… but we kept going because behind every turn we expected to finally see the waterfall.
Until we started to wonder… 
After a good 2-hour-walk we were starting to wonder if we'd missed the waterfall. We were thirsty and getting tired and there was this huge tree that had fallen across the river. Judging from how much stuff was already growing on it, we thought it must have been there for years. 
They said it should take us an hour to get there. So why are we still not there??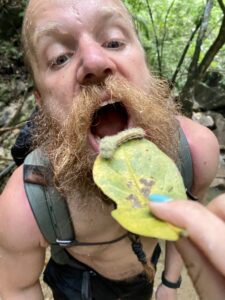 I wanted to turn around. I was sure that this can't be the path to a popular tourist site. Who would climb over all these rocks and huge tree in the middle of a river?
Paul the adventurer wasn't going to give up. Having wounds on his feet and carrying a heavy backpack for hours he didn't want to turn around now without reaching our final destination. So we kept going and just after the next turn appeared El Nogalito waterfall. 
We got to enjoy a refreshing swim in this beautiful swimming hole. Very clear water and deep enough to dive. The waterfall is maybe 15 meters high and runs into a pool that gives you the feeling like you are in a cave. Swimming in it you are surrounded by high stone walls and giant boulders. We loved having it all to ourselves and not seeing a single soul there.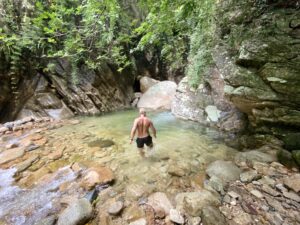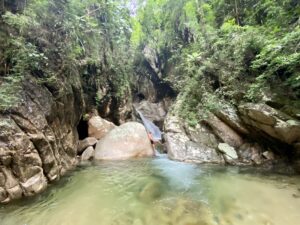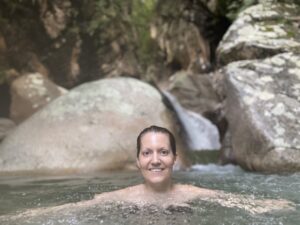 The walk back seemed easier and shorter (1.5 hours) and again we didn't see anyone else hiking. 
Being back down we were so happy to have been on this adventure. Traveling without crowds of tourists gives us a chance to feel one with nature and we love it.