The island of Cozumel during the hurricane ⚡️🌬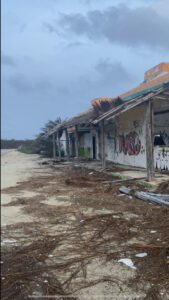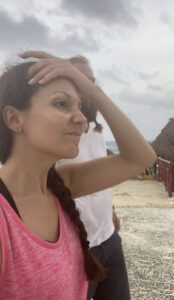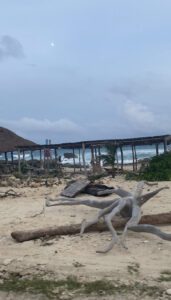 Oh boy – what a week!
We spent the last couple of nights on Cozumel, an island off the coast of Playa del Carmen. And since we're now digging the island life, visiting another island seemed like a good idea.😁
Cozumel is bigger than the last island we stayed on (Isla Mujeres), so we thought it would offer more places to cover our daily needs like coworking spaces and gyms. 💪👩🏻‍💻
A storm was coming! 💨
Arriving on the island we saw how people were preparing for a tropical storm to arrive. Boarding up windows and doors with plywood and police driving around reminding people through their speakers to "go back home". Not a super safe first impression.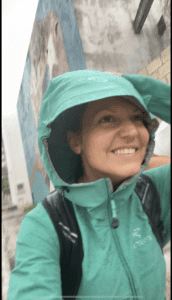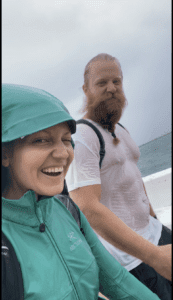 Our hotel told us not to worry, their place should be safe up to a hurricane category 4. Since the approaching storm was of category 2, we just bought enough food to cook at our kitchen and stayed inside waiting for what was going to come.
The night of the hurricane! ⚡️
While the storm started to rage outside, we felt kinda cozy inside.
Until the lights went out. 
And the internet connection was gone. 
And the AC didn't work anymore. 
Luckily we had already cooked, so at least we weren't hungry. But all we could do at this moment was sit in the dark and listen to the hurricane outside. Unfortunately we had many mosquitos in our room, but it was also very uncomfortable to be under the covers since it was insanely hot because of the AC not working. So we suffered through a loud and hot night with lots of mosquito bites. Ouch! 🦟
The day after the hurricane! 🌥
The next morning we woke up to people clearing away fallen trees and branches in front of our window. The hurricane must have caused some serious damage!
We decided to go outside and the streets looked like a mess!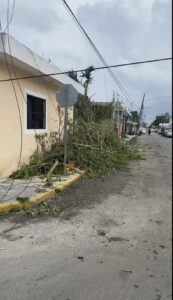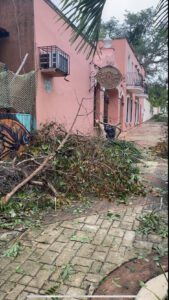 Later we heard that, even though this hurricane was "only" a category 2, the island of Cozumel was hit so hard that a lot more damage occurred than during the previous hurricane which was a category 3.
Renting a car on the island 🚗
Before even coming to the island of Cozumel we had already made an online reservation for a rental car for those coming two days. What we didn't know before was that pretty much all island attractions and beaches were closed. Even cultural sites like archeological zones were closed because fallen trees were blocking the roads.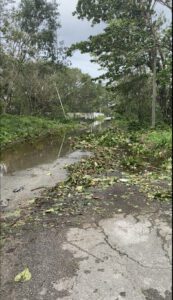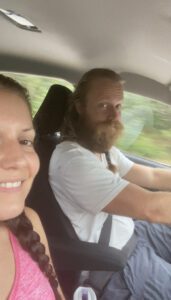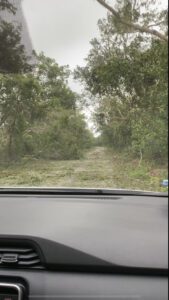 Driving around the island we felt like the last people on earth. Not seeing a single car while driving in zigzag along the road in order to avoid fallen trees. Streets that were close to the beach were covered in sand, so you barely saw the road.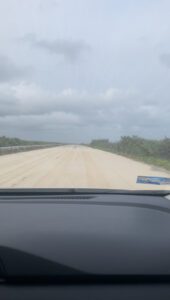 Some beach bars that looked like they would be popular on a normal day looked so destroyed that I couldn't imagine that they would host tourists any time soon. It all seemed so deserted!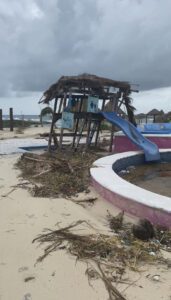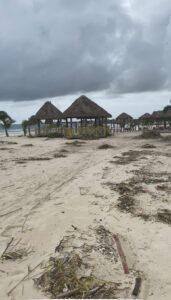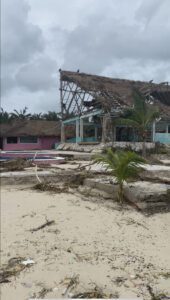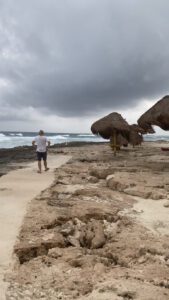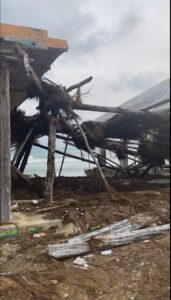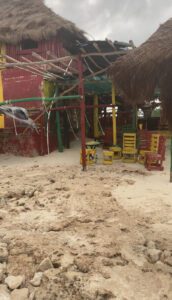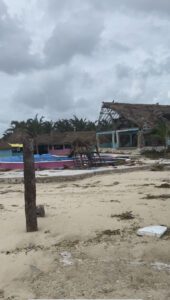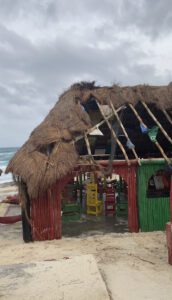 To sum up, our two days having a rental car were not really what we had expected. Instead of enjoying the beach and ancient cultural sites, we drove around like the last people on earth seeing nothing and no one. Not saying that it was a total disappointment, it was for sure an exciting experience!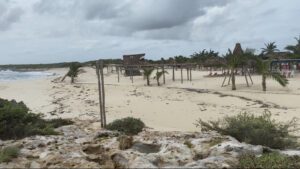 Back to the mainland! 🏢
Since it was clear that Cozumel didn't have much to offer for us at this point, we took the ferry back to the mainland. Arriving at the port of Playa del Carmen, we decided to give this town a shot!
…not knowing that we would meet a scammer who rented out his place to us under false pretences. 
Read more in my next blog post. 
Watch my Youtube Video about Cozumel during the hurricane on Alexandra Allover!