Fun & wild buggy ride at sunset in the beautiful Lençóis dunes for our first Latino anniversary
We did it! We spent a full year in Latin America. And it was full of ups and downs.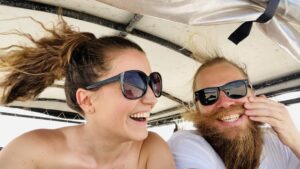 Sometimes tough…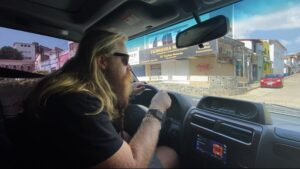 sometimes fun…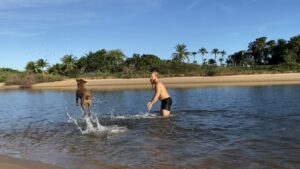 often beautiful…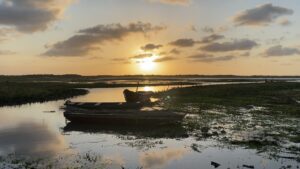 definitely adventurous…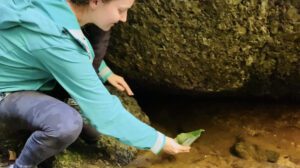 and mostly really exciting.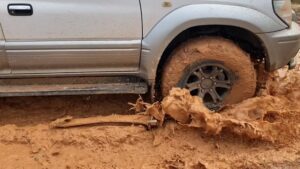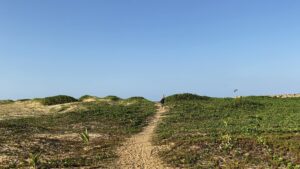 (This last photo is Paul being attacked by a multitude of birds.)
The anniversary of our first year in Latin America
So for our first Latino anniversary we wanted to do something really special. People told us that an amazing place to see in Brazil is the dunes of Lençóis Maranhenses National Park.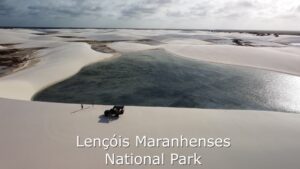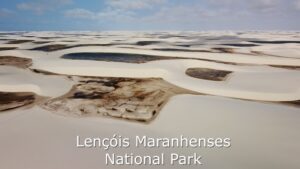 Translated that would mean "National park of Bedsheets" and that is really what it looked like. But first let me explain how we got there. 
Our roadtrip from Paraguay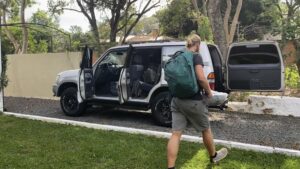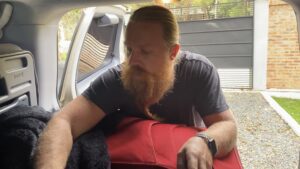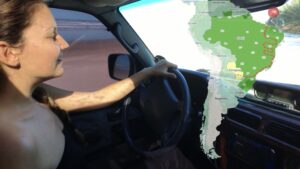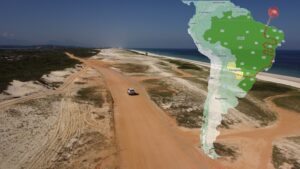 If you're starting your road trip from Paraguay, it is about 4000 km away, so we took our time and only made it there after 5 months of driving.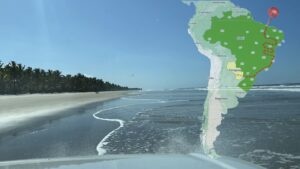 Where to stay 
There are 2 main towns you can stay in when you visit the park: Barreirinhas and Santo Amaro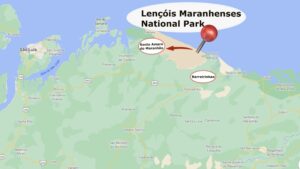 While Barreirinhas is the more developed town, we generally prefer less visited places closer to nature and wildlife. Therefore we chose to spend a few days here in the small village of Santo Amaro.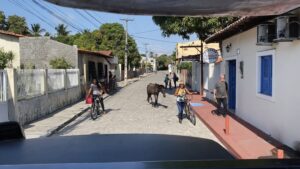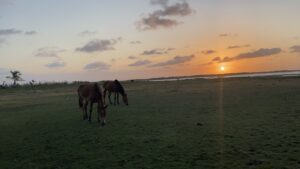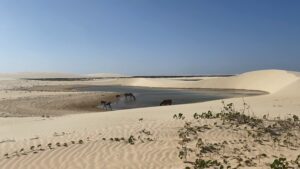 Which lagoons should you visit at the park?
Since we weren't allowed to take our Toyota Prado to the dunes, we opted for a tour with a buggy to visit three lagoons: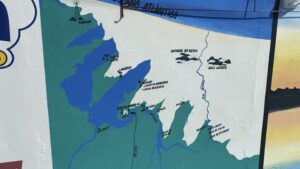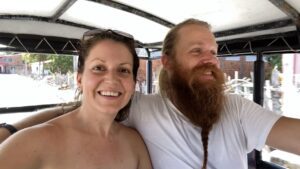 Lagoa da Gaivota 

Lagoa Betânia 

Lagoa do Por do Sol
How much do you pay for a buggy ride through the dunes?
To save some money it is definitely cheaper to go on a shared tour with other tourists. You will pay around R$ 100-150 per person.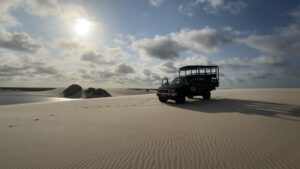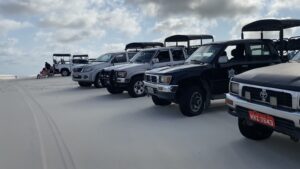 But then you're also stuck with them when the buggy takes a break so everyone can go for a swim.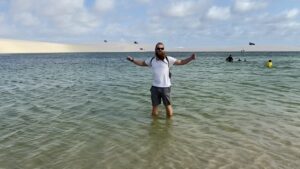 Plus, we rather preferred to drive around as much as we could to discover less visited sites in Lençóis National park. For a private buggy ride (around three hours) with driver we paid R$ 450 altogether.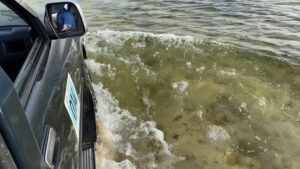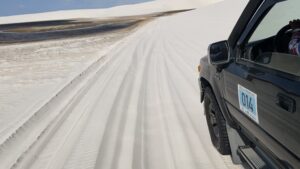 The buggy ride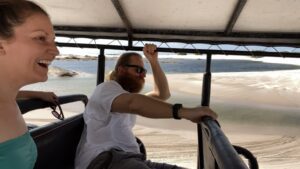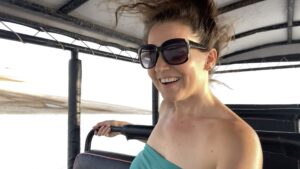 The ride was sometimes wild but really fun. As you can see it was worth it, and worthy of the first anniversary of our one year stay in Latin America.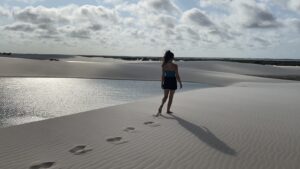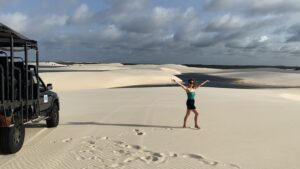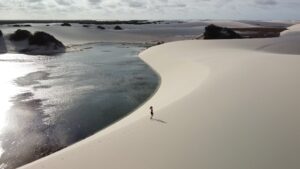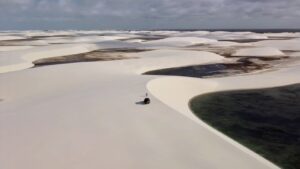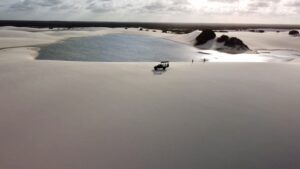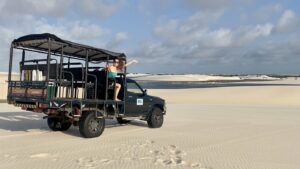 The sunset over the dunes
As soon as the sun set, we finally witnessed the highlight of this 3-hour-trip:
the sunset over the dunes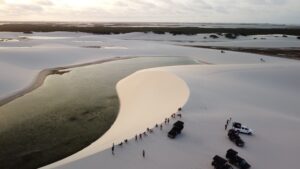 If you take a tour at Lencois national park, you should definitely choose to go later in the day so you don't miss this beautiful spectacle of nature.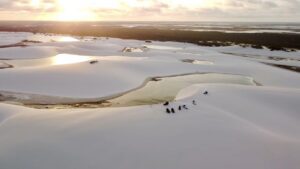 At sunset lots of other cars and tourists came together to enjoy the magnificent view.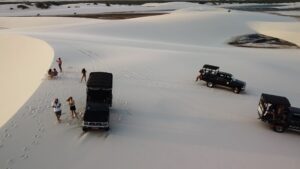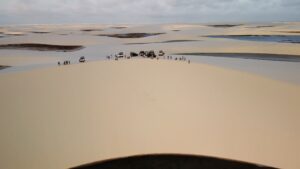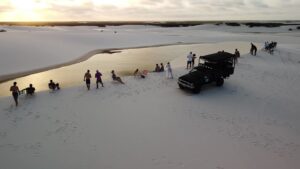 How to book a tour
If you are interested in going on a tour through the dunes, there are lots of agencies in town. Our driver Clemilton left his contact details in the description of the video below. He promises to get you around safely 😉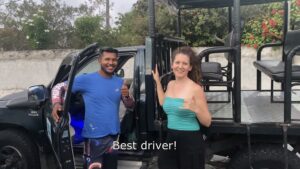 What's coming next?
One of our next destinations was the Amazon rainforest. What we saw there presented a striking contrast to our experience at the dunes.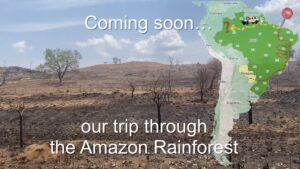 See you next time!
Alexandra
P.S.: Watch the video of our trip to the dunes:
Subscribe to my channel to not miss the next video of our trip through Brazil. 🤩👍