Our 11-day-adventure on the Trans-Amazonian Highway and why we chose our car over the ferry
Eleven days of driving with mostly no cell phone reception.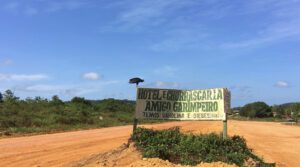 That might sound uneventful but it really wasn't. Especially if you don't mind spending at least 6 hours in the car every day.
Not always pretty but a real road trip adventure.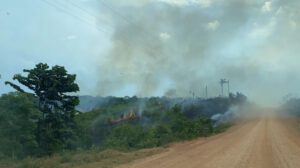 In this post you'll get some information on how to travel by car on the Trans-Amazonian highway and find out why we chose car over ferry when traveling BR-230 from Belém to Porto Velho.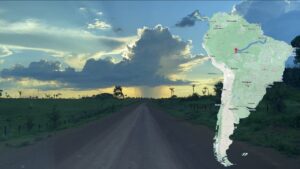 After our visits in São Luis and Belem, we decided to embark on our journey through the Trans-Amazonian highway.
Car vs. ferry
We were considering a ferry because it would be an interesting experience but after doing some research, chose to drive all the way.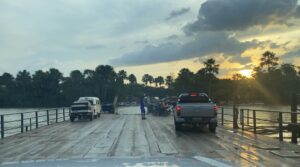 Due to missing streets or bridges we had to take a short ferry from time to time whenever we crossed a river. They run daily until 9pm, once or twice an hour (for a Price of around 20-30R$.
Prices on the Trans-Amazonian ferry: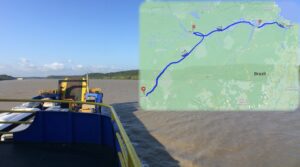 There is no direct ferry connection from Belem to Porto Velho, but you need to take a couple of ferries in order to reach your destination. In addition, if you want to ship your car at the same time, there are fewer options available. 
We consulted two different companies about prices and travel time and were told that for one journey, from Belem to Manaus, so about half the distance, the journey takes 5 days. With an SUV 4×4 it would cost around 1500$R to ship the car and approximately another 1300R$ for a cabin or master suite for two.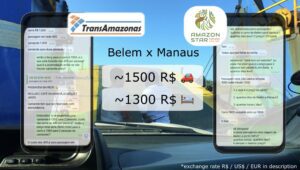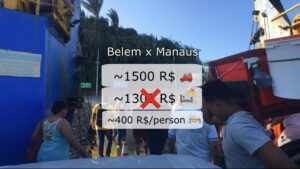 Alternatively to the cabin they offer "em rede" which is sleeping in a community room in hammocks, for 400 $R per person for 5 days. All of this includes breakfast, lunch and dinner. 
After consulting these agencies we realized that taking the ferry with our car would be out of our budget. Plus, we wanted to experience the road and be flexible with where we want to go (which did not always work out so well as you'll see in the video below.)
So driving it was. 
It took us 11 days to drive from Belem to Porto Velho with at least 6 hours of driving every day. We usually drove and explored the area during the day (and despite hearing beforehand that the area is known for deforestation, it still made us speechless to see it with our own eyes).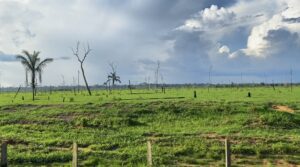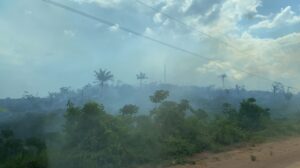 At night we stopped at one of the rather scarce accommodations on the way. Hotels or Pousadas were mostly simple and remote. And sometimes more easily accessible by plane than by car.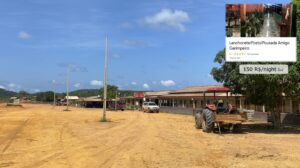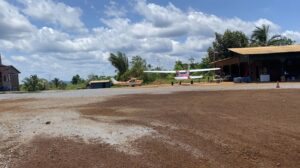 We planned to stay in some bigger towns whenever we could, such as Tucuruí, Santarém or Porto Velho. With all the off-roading through sand, mud and forest and the occasional carelessness of our fellow humans we needed to take care of our car from time to time.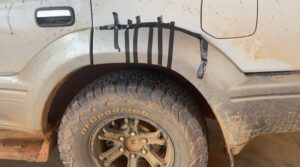 Dry season and muddy roads
We were there during the dry season, so it was not as muddy as we had seen from other travelers. But after all it was the rainforest and we encountered our daily rain and thunder which made the road even more challenging.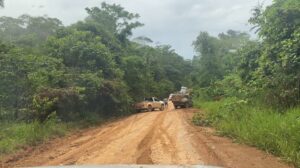 Due to the muddy roads we once even crashed into a bush. But we were lucky, compared to other cars and trucks that were stuck in the mud or had fallen off the streets. 
How good is your GPS in the Amazon Rainforest?
We usually use google maps to find our way. And since there is no cell phone reception or internet on the way, we downloaded offline maps beforehand. That did help us navigate. But sometimes you notice how the road gets worse, and worse, and worse. 
There are lots of paths that google maps wants to send you on that do not exist or have not existed in a very long time. But if you're traveling with a Paul, you know that a Paul wants, what a Paul wants. After some trial and error we did agree on a path, even if not knowing where it leads to.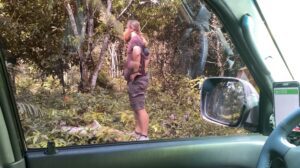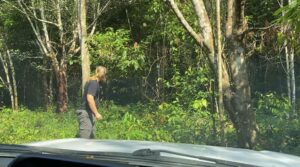 Sometimes we just drove up to a house in the middle of nowhere to ask people and they were nice enough to show us the way to the next path we should take.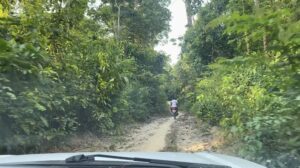 Some roads are in the process of being built. There we could see trees that have marks on them, these are the ones that keep standing there seemingly left alone. Maybe these showed that they weren't allowed to be cut. If this is true we don't know. (Maybe you do? Let me know in the comments!)
Where are the big trees?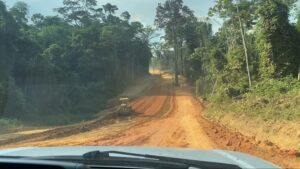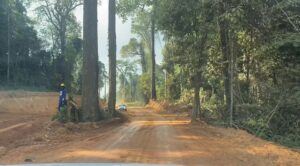 In the end we discovered very few of the old trees that we were hoping to find when crossing the actual rainforest on the Trans-Amazonian highway. The biggest trees we encountered at Belem botanical gardens and sadly other unexpected places.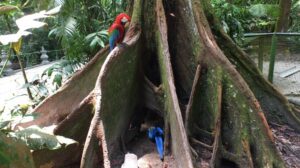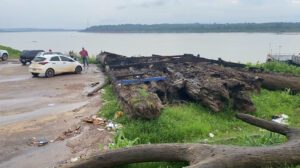 If you know where to find them when driving through the rainforest, let us know. 
After all, despite all difficulties, it was very adventurous. Having no cell phone reception and driving many hours between villages, with barely any other people, was another memorable experience of our Brazil trip.
Since people have been asking about our budget for our trip, I decided to create a video on our daily budget for accommodation and what you get for your money in Brazil.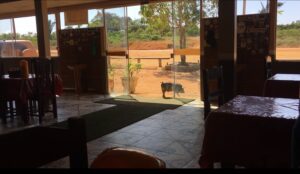 Keep an eye out for my next video! (And blog post) 
Thank you for reading!
Alexandra
P.S. Watch my video on our 11-day-drive through the Trans-Amazonian highway.
🤗 Please like & subscribe to not miss my next video of our road trip through Brazil and the rest of South America! 
🙋🏻‍♀️Follow my channel for more videos of South America👉 https://www.youtube.com/AlexandraAllover?sub_confirmation=1
If you want to see more, follow my other channels:
✅ https://www.instagram.com/AlexandraAllover
✅ https://www.facebook.com/AlexandraAllover