Everything you need to know about entering Bolivia by car 🇧🇴🚗
When we crossed over from Brazil to Bolivia by car we had no idea that this would become the most complicated border crossing we've had in our over two years of overlanding South America.
Here I collect the most important information about entering Bolivia by car: vehicle permits and documents, toll stops, Sigemig / Digemig system for migration, how many days of visa, ATM fees and police stops.
🚗 VEHICLE PERMITS IN BOLIVIA
To legally drive in the country, we needed to get 2 documents for the car. (1. ingreso & salida from Aduana, 2. Orden de traslado/circulacion from the transit police). If you arrive late in Puerto Quijarro like we did (Saturday 16h30), Aduana is closed and you get it at the border. To get the permits, we had to present photo copies of: passport, exit stamp Brazil, entry stamp Bolivia, and in our case copies of our Paraguayan cedula and the cedula for our car (Carta Verde). The process took like 2+ hours.
⛽️ GETTING GAS IN BOLIVIA
At Aduana you get a Code that legally allows you to get gas in the country. Since Aduana was closed on the day of our arrival and we didn't know anything about that code, we were sometimes denied gas (even at the higher foreigner price), but many gas stations don't use this new system yet and you can get the local price or can negotiate.
🚘TOLL / PEAJE
Toll stations were generally easy. Remember you don't need to pay at each stop if you already paid until your final destination. You just show them the ticket and get a stamp on it. With our foreign license plate we sometimes (or always?) paid more than locals.
📝SIGEMIG / DIGEMIG SYSTEM FOR MIGRATION
At migrations at the border we told them an address of a friend and they put it in the system manually. We kept on updating our accommodations more or less correctly but when we left Bolivia at the next border (Peru), they did not check or say anything.
📆 30 OR 90 DAYS VISA?
At the border they told us, as EU citizens we only get 30 days Visa and we can extend our stay. When we were at the migration office in Santa Cruz to extend, they told us that since September 2022, EU citizens (amongst others who are "Group 1") get 90 days of stay.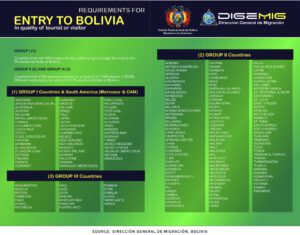 🏧 ATM FEES
For our German bank account we found the best conditions at BancoSol when withdrawing money. It allowed me a maximum of 2000 Bs and fees of 17.50 Bs.
🚨POLICE IN BOLIVIA
Police stops were generally complicated. They always asked for all the documents and when we presented them, they wanted to see First Aid Kit and Fire extinguisher. When we showed them that, they decided to search our car for drugs. They were very pushy, opened up glove compartment etc. They tried to convince us that we had illegal items with us (pocket knife etc.) but we kept telling them that nothing is illegal. It sometimes took a bit long for them to get tired of us but eventually we could always move on 😉
Conclusion after six weeks Bolivia
Having been overlanding in Latin America for over two years now, Bolivia was for sure the most complicated border crossing so far. Nevertheless I'm glad we experienced it. It made us stronger 😁💪
The nature is spectacular und once you get used to the altitude, you actually get to enjoy the beautiful landscape. One of the most exciting adventures we had with our Toyota Prado was sleep in Salar de Uyuni, the world's largest salt flat, at zero degrees ☃️ Watch this beautiful nature adventure on my Youtube channel. (coming soon)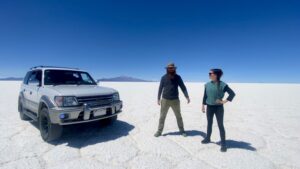 I also documented our border crossing adventure on my Youtube channel. It's in German, and has subtitles 🇺🇸🇧🇷🇧🇴👍
There are many more Bolivia videos to come!
I hope this was helpful. If you have any more quesitos about traveling Bolivia, let me know in the comments or contact me on social media!
Alexandra Allover on Social media
🙋🏻‍♀️Follow my channel to not miss my next video of my adventures through Brazil and the rest of South America 👉 https://www.youtube.com/AlexandraAllover?sub_confirmation=1
You can also contact me on social media:
✅ https://www.instagram.com/LearnAllover
✅ https://www.facebook.com/AlexandraAllover
✍️ Read more blog posts about our travel in Latin America: https://alexandraallover.com/blog
📩 You can email me via Alexandra@AlexandraAllover.com
🎓My life as traveling teacher 😊
https://www.youtube.com/channel/UC3i5ab8dLpuVTqrSI4uVd0w?sub_confirmation=1


I'm happy to hear from you!
Alexandra