Best OVERLAND CAMPING of Ecuador! Finca Sommerwind in Ibarra, ECUADOR 🇪🇨
This place is the overlander favorite of Ecuador! Usually we aren't campers but we were invited to Finca Sommerwind and were planning to stay a couple of days (but stayed multiple weeks!) Even though we have no sufficient equipment for camping, we managed to have a great time here!
Watch my interview with Hans the owner of Finca Sommerwind and other overlanders at this campsite:
Finca Sommerwind is an overlander campground in Ecuador, close to the Colombian border. The German owner Hans opened this campsite in 2014 and has made this place an overlander must see! It includes a German restaurant, ample space for parking, tiny houses and cabins, all in the middle of nature. Additionally, every camp spot offers electricity in 110v/220v and hot showers for campers!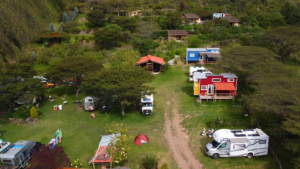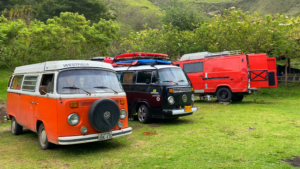 Why do people come to Finca Sommerwind?
Hans himself used to own a camper van in Germany. He knows what campers need to feel like home. People stop at his campsite to get ready for their border crossing from Ecuador to Colombia, or to get a good rest if they just crossed from Colombia to Ecuador.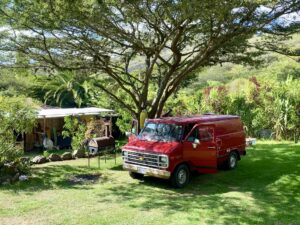 Travelers often arrive with problems regarding their cars, their engines or wheels. Hans puts them in contact with local mechanics who can conveniently help right at the campground. Also, if you need support with papers for your border crossing or visa, Hans can get you in touch with all the right contacts. 
Is Ecuador a popular country for overlanders?
According to Hans, most people don't know much about this little country situated between Peru and Colombia. Overlanders usually plan to cross Ecuador in a short time because, compared to most other countries, Ecuador only allows a 90-day-stay within one year.
Once people get to Ecuador, they are surprised by the beautiful nature and great infrastructure. When you arrive at Finca Sommerwind, lots of great tourist destinations are just a couple of hours away. Within two or three hours, you can reach the Pacific Ocean, the Amazonas as well as the modern capital Quito.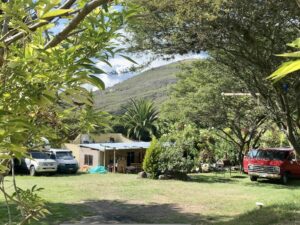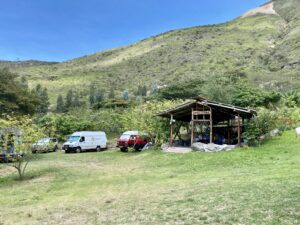 People at Finca Sommerwind?
Everybody comes here with their own story and problems; many of them car- or travel-related. However, besides taking care of your car and travel documents, you also get to hang with other international travelers and exchange stories and experiences. All kinds of different nations come to this place, including multiple European nations, North and South Americans. 
With the help of these overlanders, I created this video to show more travelers that this place is worth visiting. Check out the video here.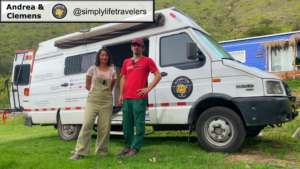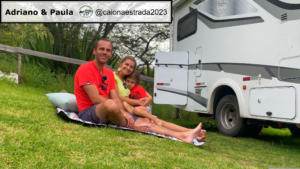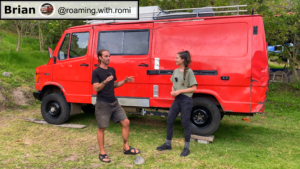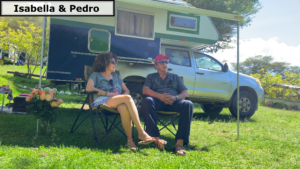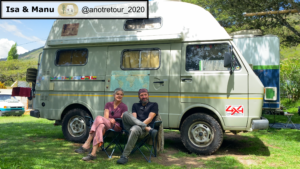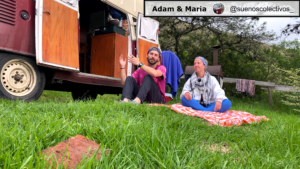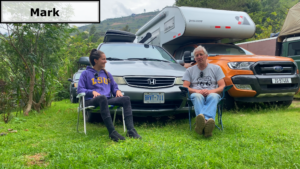 What does the campground offer?
Hans started this place in 2014. Over the last years he built tiny houses and cabins in the middle of nature, right next to the beautiful Yahuarcocha Lake. He opened a German restaurant and café as well as a barbecue area for travelers. Even locals come to visit this place frequently to enjoy nature and activities around the lake or family festivities with German food!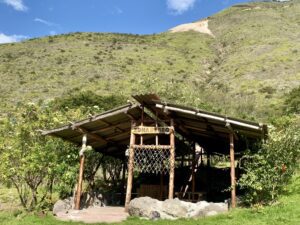 As digital nomads we highly appreciate the stable internet connection throughout the campsite. It is sufficient to do work online and is a great add-on! Also, if you're planning to go visit family back home and don't know where to put your car in the meantime, the Finca offers safe and cheap long-term parking while you're gone.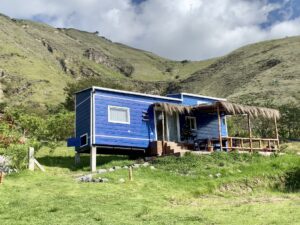 German-style food at Finca Sommerwind
My personal favorite is the Finca's home-made bread. Besides that, Hans also taught his employees to bake German cakes and classics like Wiener Schnitzel or Curry Wurst. He offers over 30 types of imported German beers and tons of wines or Schnaps that are popular amongst travelers and locals alike. 
 
What kind of travelers can you meet at Finca Sommerwind?
In those few weeks that we've spent at this campground we've seen all types of different travelers and vehicles. You can find everything from bikes, motorcycle, small vans to huge trucks. Most vehicles are equipped with rooftop tents or other constructions to make camping more comfortable.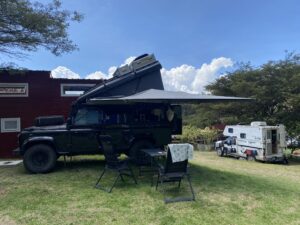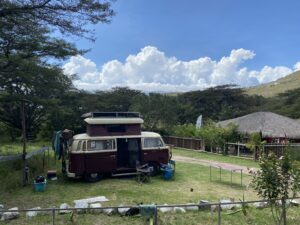 Since we had only bought basic camping equipment so far, we got lots of new valuable tips and input every day just by talking to other campers.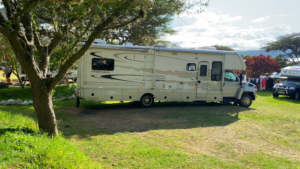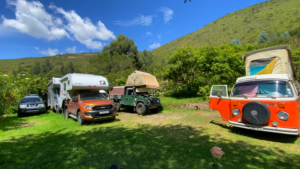 Lots of details make this place the overlander favorite
As you might have already assumed, Hans does not run this place all by himself.
His beautiful wife Ximena has the eye for detail and told me that she enjoys preparing the place the way she would like it for herself.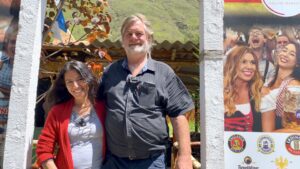 This mentality is what makes this place so special. Hans and Ximena make their guests feel like home and campers feel that on a daily basis. Nice conversations and support for your car or whatever else you may need, you'll find this here at Finca Sommerwind.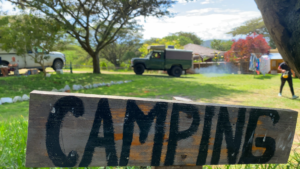 What will wait for us after Finca Sommerwind?
We certainly got a good taste for camping now. Apparently Colombia offers lots of variety when it comes to camping equipment, which is why we will start looking to upgrade our car with a rooftop tent as soon as possible.
If you want to stay up-to-date, follow me on social media or send me an email to chat about life in South America!

If you want to know more about life in South America, feel free to contact me!
📩 Email: Alexandra@AlexandraAllover.com
🔵 Facebook
🟡 Youtube
🎓 My life as traveling teacher: Youtube
✍️ More blog posts on my perpetual travel: https://alexandraallover.com/blog