How Tulum helped me become a water rat (and a PADI open water diver) ☀️🤿💦
"Going to the beach" for me so far meant chilling on the beach and looking at the water. Not necessarily going inside, and I always had many good reasons for it: 
"My eyes burn from the salt water." 

"I don't want my hair to get wet." 

"The sea grass feels gross."

"The waves are too strong."

"The water feels cold in my ears."

"I can't breathe under water."

(Duh…)
You get the picture. Even though I wouldn't have said that I'm afraid of water, I'm definitely not a water person. I prefer looking at it. Not being in it. ⛱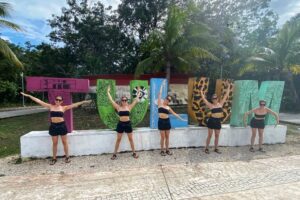 And then came Tulum!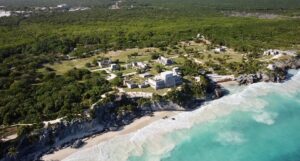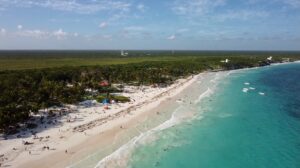 Tulum has been our home for a full two months. And for very good reason! Besides being home to the Mayan ruins, it's got the best beach in all of Mexico!🏝☀️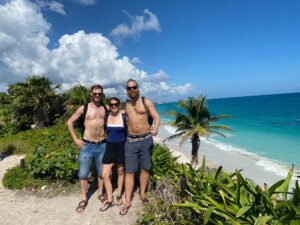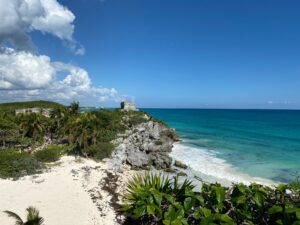 The beach is wide and offers lots of fun activities like volleyball, free outdoor gyms and beach bars with DJs. There's lots of space to hang out and enjoy the turquoise water. The town itself is very trendy and home to many hippie and spiritual people. 🧘🏻‍♀️☯️
Unfortunately the beach is located quite far from the city center. However, that also means that living downtown is more affordable than staying at a hotel by the ocean. So that's what we did. 
Our new home!🏡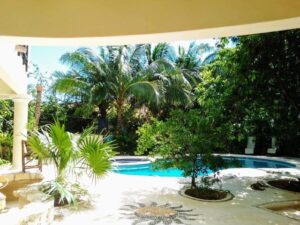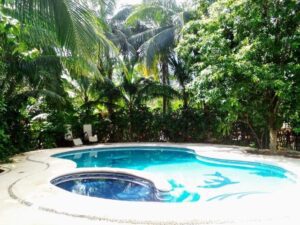 We were so lucky to find Patrick, our new host, who rented out amazing vacation homes in midst of palm trees in the center of Tulum.🌴 It was a peaceful oasis with a swimming pool deep enough for diving. And little did I know that this would be the beginning of my diving career.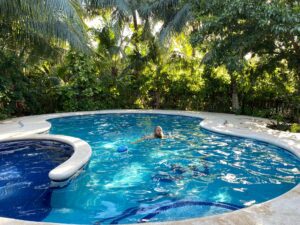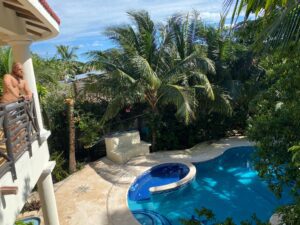 Our host Patrick
Patrick is our age and from Germany. He's been living in Mexico for some years and has quite well adapted to the Latin way of life. 
Also, he's a divemaster and organized a cave dive for Paul and his friends in the cenote of "Dos Ojos".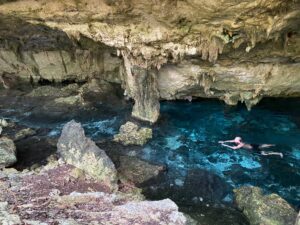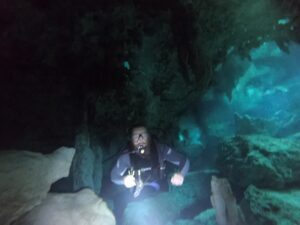 A cenote is an underwater cave and the Mayans believed they were sacred windows into the underworld where gods and spirits would reside.
While the guys were on their dive, I went snorkeling. I could see the bottom of the cenote and was impressed by all its spikes and pillars. But that was only fun for about 30 minutes. I started to think that diving down there would probably be more adventurous than just floating at the surface like a dead fish. 🐠🤿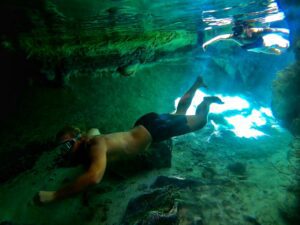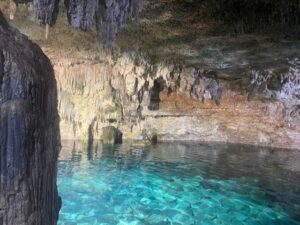 When I told Paul that I was maybe interested in scuba diving, he was so excited! He had been diving since he was a teenager and always wanted to go diving together. Since I had never expressed any interest in water activities, he had never suggested any to me. I could see however how his eyes were lighting up.😍🥳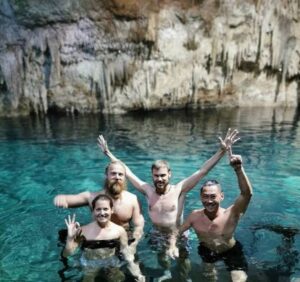 Is diving really for me?
Back at the house Patrick suggested that I should get my open water diver certification. With this I would be able to go on dives with a guide. When he told me the exercises that I would have to pass in order to get certified, they pretty much covered my list of water-related nightmares (opening my eyes under water, diving without mask, removing the regulator from my mouth, and simulating other deep water emergency horror situations.)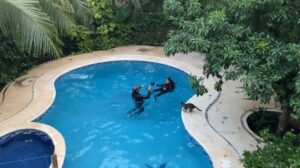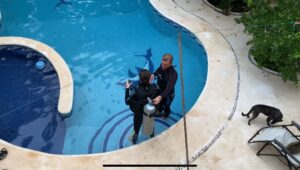 My first time underwater
Patrick offered to do a first dive with me in our pool. He would show me some of the exercises and how to put the equipment together. After two hours in the pool and a lot of patience on his side, I managed to overcome the fear of filling my mask with water and losing the regulator. I felt ready for the real dive. 
Diving in the cenote
After studying the book on how to become an open water diver, my dive instructor Michele took me on four dives over the course of two days.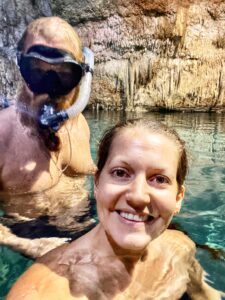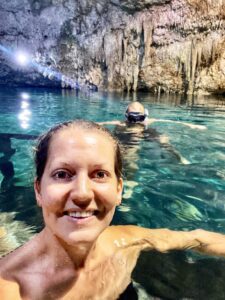 The first two dives took place at Tankah cenote in Tulum. Tulum has got many impressive cenotes; and this one was connected to the ocean, so you could constantly feel the currents. After doing a few exercises underwater, Michele said I was ready for my first dive. Like really? Already? Ok cool…  
Paul and some friends joined in on the dive and it was an amazing experience. I saw so many underwater creatures and rock formations and once we got on the surface, we even encountered an alligator.🐊 Everyone was telling me how lucky I was to get to see this on my first dive! And I guess they were right. It was so impressive and it all felt so light and easy. Turns out, when your eyes are protected with a mask and they give you air to breathe underwater, it all is a lot less scary! 😁
After my first dive, my instructor explained how to put together my equipment and practiced some more emergency scenarios and off we went on our second dive. I already felt like a pro. We saw another alligator with its mouth open just waiting there when I came up to the surface; but this time it was not that scary.
My dives in the ocean
A few days later we planned my next two dives. This time we went off-shore diving. It was pretty stormy, so our small boat was moving a lot which unfortunately made me feel quite seasick.🚤🤢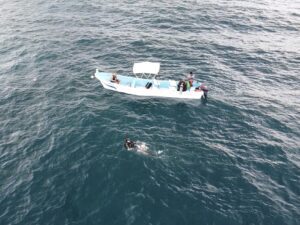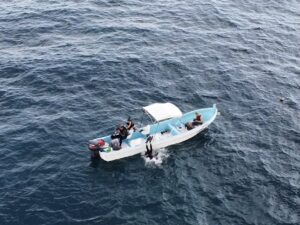 (Paul's drone shots)
After I had to fall backwards off the boat into the water, I had to follow a rope down to the bottom of the ocean. Once underwater I felt less sick and was able to enjoy the dive. We practiced some more exercises such as buoyancy control, using inflatable signal tubes and diving for one minute without a mask. 
I couldn't believe what I had been afraid of this all those years. First off, the salt water didn't hurt my eyes once they were open. And secondly, it is so much better to see what's going on around you! 🦑🐡
Going back up to change tanks on the boat, I started feeling seasick again. Just to be sure what to do when worst comes to worst, I asked my instructor how to deal with actually getting sick underwater. He told me to just throw up into the regulator without removing it from my mouth. Hehe ok that should be fun…
The second dive was even more beautiful. We dove under rocks, saw lobsters, lionfish and eels. 🦞🧜‍♀️ I almost forgot that I was feeling sick. I tried to keep my breaths deep and slow so I would keep my stomach calm. After 45 minutes it was time for our decompression stop. ⏱
You need a decompression stop at about 5 meters so your body can get rid of gases in your blood. If you don't stop for a few minutes before your final ascent, those bubbles would expand and cause decompression sickness. Not fun!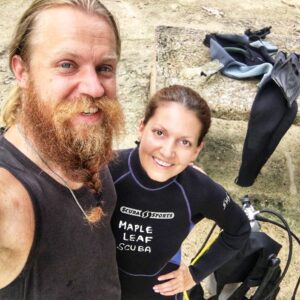 How to beat seasickness 🤮
Back on the surface and eventually on the boat, I was relieved that I had managed to complete all my dives and see so many amazing creatures underwater. On the boat I tried not to focus too much on the moving waves but look into the distance at the land and the clouds. ☁️🏘 Eventually though I learned the hard way that getting rid of seasickness is just to throw up into the water. (Choose the leeward side if you can.) 
The theory part of the certification 🧐
The quiz to complete in order to get your certification was not too hard. It was 50 questions that covered the whole book of the PADI open water diver and helped consolidate all the knowledge I had collected. With a score of 48/50 I passed the quiz and was satisfied with myself. But of course what counts the most is to keep practicing and going on actual dives.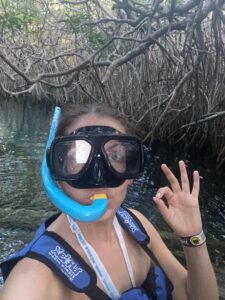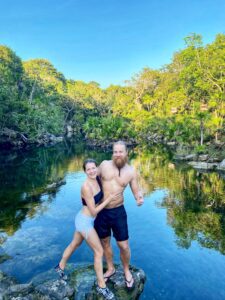 The future of my diving career
With that in mind I hope I'll get to go on more adventurous cenote and ocean dives, everywhere in the world. Our next destination, Paraguay, is a landlocked country but maybe we'll still find a way to go scuba diving in one of their lakes. 🤷🏻‍♀️
I was happy how Tulum and the people surrounding me supported my idea of starting my new hobby. I truly had no clue that being underwater could be such an incredible experience. Managing to overcome my fears and gaining trust in myself was one of the best parts of my Mexico experience.
Tulum with all its ancient sites and beautiful beaches provided me with such positive energies and strength. No matter if you want to go diving there or visit the impressive Tulum ruins and Mayan pyramids, you will be able to write your own story in Tulum.