Our visit at the organic cacao farm Fazenda Recreio in Ilhéus
On our trip through Brazil we met lots of people. Many of them from Europe, and weirdly… from Switzerland. I even started coming up with a reason why Swiss people and Brazil were so tightly connected. More on that later. First let me just briefly tell you the story of our visit at the Swiss cacao farm in Brazil.
And it all started with trying some raw cacao beans!
When we had a longer stop-over in Canavieiras, we tried some raw cacao beans. A Swiss friend of ours offered them to us and they didn't look very special. Actually he had them stored in a plastic Nutella jar, no label, no name, nothing. Surprisingly though they did not compare to any other cacao beans I had ever tasted before. They weren't as bitter and actually kind of enjoyable to eat. 
We asked where those cacao beans were from. Our friend told us about this organic Swiss cacao farm in Ilhéus, a city just two hours by car from Canavierias. We left Canavierias really late and it was barely light out when we departed. Driving in Brazil at night can be a bit uncomfortable because there are barely any street lights and the drive turned out to be more like three hours. Nevertheless, we checked into a pousada that we had found on the way and planned on contacting the cacao farm owner Urs Brog the following day. 
Urs & Ursi 👩‍❤️‍👨🇨🇭
The next day we contacted Urs and his wife Ursi. Paul was on the phone with Urs and I could tell by looking at his face that he was a bit challenged by Urs's Swiss German. I still like to make fun of him for that. Even if my Swiss German isn't very good either, I did learn to understand a few dialects better after working there for two years. At least this is what I like to think 🙂
Urs and Ursi were excited to meet us and show us the farm. Because they only offer accommodation for a couple of people at the same time, we were lucky their double room wasn't booked.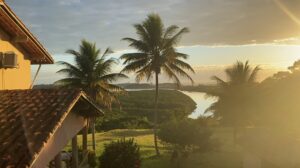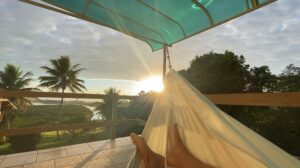 Getting to the cacao farm
We went on the drive from downtown Ilhéus to the approximate location they sent us. Which was on a hill overlooking the city.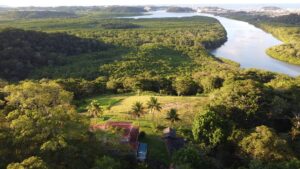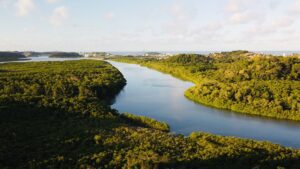 Let's say… it was not the easiest location to find 😉 There were closed gates on the way and we had to start honking our horn until people noticed us and opened their gates for us. It was a bit tricky but luckily everyone on the way knew "Urs o suíço", so they always pointed us in the right direction.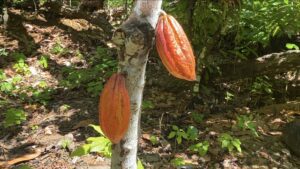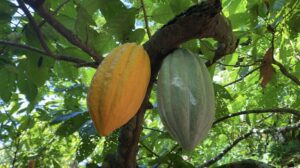 When after half an hour of cacao trees left and right suddenly a fairy tale glade appears in front of you, you will be in awe! But then five huge loud German shepherds come running at your car, and you might get scared and won't know if you should hide in the car or get out 😉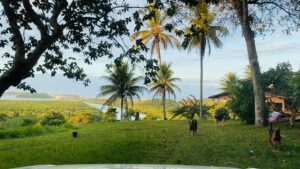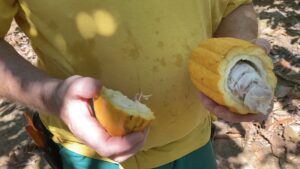 At the same time we saw this beautiful amazing view coming up, so we decided to greet the dogs and get out of the car anyway.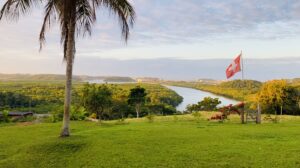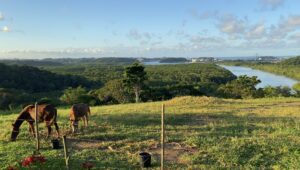 Luckily the owner Urs was there and yelled some Swiss German commands that the dogs seemed to understand. Paul was still clueless.
We booked the room for two nights at a very low price but what we got was the whole package deal. Breakfast, lunch and dinner were included and so were interesting walks through the cacao plantation, lots of educational talk to learn more about organic cacao beans, running a cacao farm, drying and fermenting and so much more!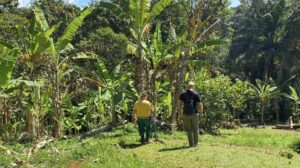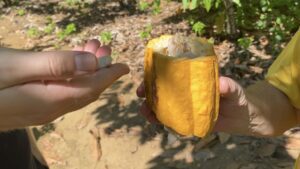 Organic chocolate lovers at a cacao farm
Since Paul and I are always looking for organic dark chocolate, we did have lots of questions about the ingredients that some of the popular manufacturers claim to use. (Or not to use.) We learned that it's not possible to use 100% cacao even if that's advertised on the label (e.g. Lindt 100% Cocoa Chocolate Bar). What they do is rounding up the numbers. Now we know that chocolate always needs some kind of additional substance such as sugar or cacao honey. Very interesting!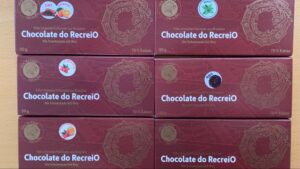 After trying some of Fazenda Recreio's organic rainforest chocolate, we did buy all of the ones that Urs had in stock. Our favorite was the one with cacao nibs.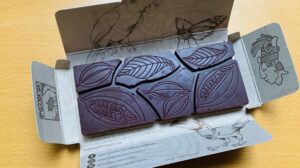 Our walks through the cacao plantation with Urs and the dogs were very educational. We saw all kinds of different-colored fruits of the cacao trees and even got to try some of it. So sweet and delicious!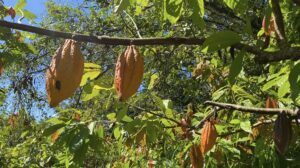 As a tree-to-bar chocolate maker he lives and works at his own cacao farm. Of course all the cacao is organically grown and eventually exported to Switzerland.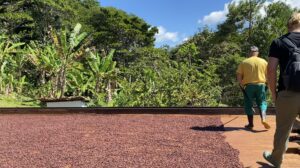 Why are there so many Swiss people in Brazil?
So now I'm wondering… Since Switzerland is known for great chocolate, is this the reason why so many Swiss people have come to Brazil? A country known for its amazing cacao production? 
I spent two years of my life in the actual Switzerland and have always held it dear to my heart. So with our permanent residency now in Paraguay I for myself am very excited to have this little Switzerland right nearby. 
My video of the cacao farm Fazenda Recreio
Check out my short video about Fazenda Recreio and see for yourself what Swiss fairy tale cacao farm is waiting for you up there on a hill overlooking Ilhéus: 
🙋🏻‍♀️Follow my channel to not miss my next video of my adventures through Brazil and the rest of South America 👉 https://www.youtube.com/AlexandraAllover?sub_confirmation=1
You can also contact me on social media:
✅ https://www.instagram.com/AlexandraAllover
✅ https://www.facebook.com/AlexandraAllover
✍️To find out how we found more amazing places in Brazil for a low budget, check out this blog post: https://alexandraallover.com/budget-hotels-brazil/
I'm happy to hear from you!
Alexandra 🌸